Charities
While we are not ourselves a charity, from time to time we are able to assist existing charities in their marvellous work in Sri Lanka. When we can help, we tend to look for smaller charities and seek to assist them with their specific projects.
In 2016, we provided £2000 to We Are One Sri Lanka to help with flood relief efforts, delivering dry rations, bottled water, toiletries and medication to the worst affected families and raising funds to assist with providing stationery, books, shoes to children of the affected pre-schools, helping repair damage to pre-school buildings, cleaning and treating contaminated wells, repairing some damage to homes and replacing cooking utensils that were lost in the floods.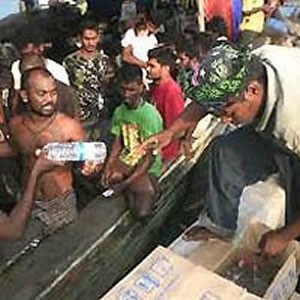 Sri Lanka's monsoon death toll in the 2016 exceeded 150 people with over 100 people missing in the island's worst flooding in 14 years. Photograph courtesy of AFP Photo / Lakruwan Wanniarachchi.
Charitable activities over the last few years include donations to:
The British Wives Group in Colombo; this was utilised for the construction of a well at Nawapadeniya.
HOPE for Children, to help with the construction of a corridor connecting the office building, boys hostel, sick room, girls hostel, class room and dining room/ main assembly hall at the School for the Deaf in Ratmalana. Following the dreadful Tsunami, a donation was also made through HOPE for Children to a school for the deaf in Batticaloa to replace hearing aids lost in the tsunami. A large number of our members gave their support to this cause.
Vasantham Homes in Jaffna to build a water tank and toilets.